Cheesed-Up Pepperoni Pizza Scramble
Recipe courtesy Hungry Girl

Makes 1 Serving: 173 calories, 2.5g fat, 1,226mg sodium, 7.5g carbs, 0.5g fiber, 3g sugars, 27g protein

Ingredients:
1/2 cup fat-free liquid egg substitute
1/3 cup shredded fat-free mozzarella cheese
1/4 cup canned diced tomatoes with Italian seasonings, drained
9 slices turkey pepperoni, quartered
Dash salt
Dash oregano
Dash garlic powder
Optional: black pepper

Directions:
Bring a pan sprayed with nonstick spray to medium heat. Add egg substitute and turkey pepperoni, and scramble as you would ordinary eggs. Add salt, oregano, garlic powder and, if you like, black pepper. Once scramble begins to look solid, after about 1 minute, add tomatoes. Scramble for another 30 seconds or so.

Sprinkle with mozzarella, reduce heat to low, and cover pan. Let cook for another 30 seconds, until cheese has melted and—voila—you're done!

Hungry Girl mania is sweeping the nation! The New York Times bestselling phenomenon delivers even more yum-tastic recipes! An easy-to-use cookbook containing 200 Hungry Girl recipes all under 200 calories. Recipes include:

* H-O-T Hot Boneless Buffalo Wings
* Holy Moly Guacamole
* HG's So Low Mein w/Chicken
* Chocolate Chip Cookie Crisp Puddin' Shake
* Personal Pretzel-Bottomed Ice Cream Pie!

And many more! Told with Lisa's signature wit and sassy style, these recipes are as fun to read as they are to make!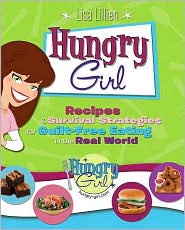 Just because you're watching your waistline doesn't mean you need to go hungry. Recipes from Hungry Girl--like the Fiber-Fried Chicken Strips --feed your every craving without piling on the calories. What's more, Lisa Lillien's lighthearted love for food and fun shines through in every recipe, making it easy to follow her healthy example and even come up with your own simple calorie-saving shortcuts. Recipes include:

* Ooey Gooey Chili Cheese Nachos: 216 calories
* Dreamy Chocolate Peanut Butter Fudge: 65 calories
* Lord of the Onion Rings: 153 calories
* 7-Layer Burrito Blitz: 277 calories
* Cookie-rific Ice Cream Freeze: 160 calories

With easy instructions, simple steps, and hilariously fun facts and figures, Hungry Girl recipes are as fun to read as they are to make! Visit the official HG book site.



Hungry Girl gabbed about these in the show:

Vitalicious VitaTop™ Muffin Tops
No time for your vitamin-fortified cereal this morning? Tired of chewing yet another nutritional bar, but still want your vitamins and minerals and 5-6g fiber with very little fat? Hungry Girl recommends these gems!

Vivi's Original Sauce
They're a sauce. They're a marinade. It's a dip. They're a spread. They're a carnival of flavors with a recipe book full of entertaining uses. Hungry Girls says they're the ONLY condiments you'll ever need!
Almond Breeze Milk Substitute
Almond Breeze is an all-natural, non-dairy beverage made from real almonds. It's sugar-free and contains no artificial sweeteners. It's gluten, cholesterol & lactose free, an excellent source of calcium and vitamins D & E, and a good source of vitamin A. Hungry Girl thinks it's magical and too good to be true!

Lord of the Onion Rings
Here's one of Hungry Girl's favorite recipes. Instead of sucking down a greasy, oily, caloriefest of a side dish, chew a few of these crispy and crunchy circles of love (er, onions).

Fettuccine Hungry Girlfredo
Hungry Girl says it's really possible to make a guilt-free alfredo using Laughing Cow Cheese and Tofu Shirataki Fettuccine Shaped Tofu Noodles. Here's her recipe!